The Dairy Practices Council Annual Conference

Join us at The 52nd Annual Conference Nov. 2-5, 2021 DoubleTree by Hilton, Pittsburgh, Pennsylvania
EARLY BIRD DISCOUNTS EXTENDED: Register By September 30th
Click Here for Discounted Hotel Rate by Oct. 19th
We invite you to join us for our annual gathering of dairy industry, academic, and regulatory professionals to learn how the dairy industry will be poised for 2022 and increase your knowledge and network through our general education sessions,task force sessions, and pre-conference workshop attendance.
Never Attended Before? No Worries! Our group welcomes all first time attendees and will gladly pair you up with a meeting mentor who can help introduce you to others and answer all your DPC questions.
Pre-Meeting Workshops Tuesday, November 2nd. (Limited Space)
Automated Milking Systems Workshop & Tour
November 3rd a.m. Educational Tour Pleasant Lane Farms
(Limited Space)

Wednesday, November 3rd, 1:00 p.m. EST
52nd Annual Dairy Practices Council Conference
Opening Session keynote speaker Matthew Gould, The Dairy Market Analyst will share Global Perspectives on Dairy: Where Does the U.S. Industry Fit-In Post Pandemic?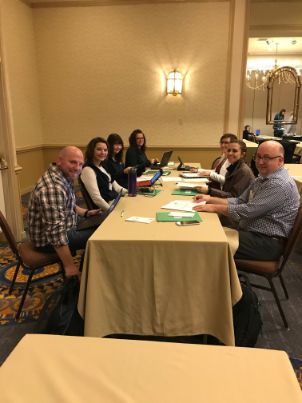 Mid-afternoon Task Force Working Sessions will commence where attendees will discuss industry needs , write/review existing Guidelines and decide what additional Guidelines would be most useful. Identify your Task Force(s) of interest when you register.
Task Force I Farm Buildings & Equipment: Activities & Guidelines relate to buildings & equipment for dairy operations. Focused on systems including designs for handling cows, feed, milk, ventilation & manure.
Task Force II Plant Equipment & Procedures: Activities and Guidelines relate to procedures and equipment involved in dairy plant operations. Focused on promoting uniformity between the states.
Task Force III Laboratory & Quality Control Procedures: Activities and Guidelines relate to laboratory, quality control, product evaluation & trouble shooting procedures. Focused on methods of assuring quality through good production and manufacturing procedures.
Task Force IV Regulatory Issues & HACCP: Activities and Guidelines relate to inspections and HACCP. Focused on fostering communications & uniformity between the states.
Task Force V Milking Systems & Procedures: Activities and Guidelines relate to milking system design, equipment, and facilities. Focused on function and proper cleaning/sanitation.
Task Force VI Small Ruminants: Activities and Guidelines relate to dairy goat, sheep, and other small ruminants. Focused on best practices pertaining to all aspects of production and processing.
Later in the evening, a Networking Reception will be held where participants can visit with our vendor sponsors and each other to catch up on new technologies, product offerings and changes in the industry.
A panel of speakers from the Innovation Center for U.S. Dairy,Turner Dairy, University of MO, and NMPF will kick-off Day Two by discussing the importance of Sustainability and Water Reclamation by sharing the many changes occurring in the marketplace with consumers, in dairy plants, on-farm, and in the environment. During lunch, the Annual Business Meeting will be held where we will celebrate the accomplishments of 2021, share the vision for 2022, and honor our volunteers through the Eugene T. Wolff Award, Guideline Author Acknowledgements and Honorary Lifetime Membership Inductees. Followed in the afternoon by a second Task Force Working Session.
Day Three will include updates on Appendix N, NCIMS and recent activities at the International Dairy Foods Association. The meeting will conclude with representatives from the USDA Dairy Donation Program, Feeding America, Nourish NY and NobleHurst Farms will be discussing "Dairy's Response to People In Need During and Post Pandemic". The meeting will adjourn at 12:00 p.m. EST.
For additional information regarding conference program, events, registrations or sponsorship opportunities, please contact our office at 419-890-5147 or emailing evp@dairypc.org.
Be Sure to Register By September 30th for Early Bird Discount
Click Here For Discounted Hotel Rate by Oct. 19th
Be Sure to Register for Hotel by October 19th for Discounted Rate
2020 Conference Recap
The 51st Annual Conference of the DPC was held virtually and attracted over 150 dairy professionals from a cross-section of the dairy community representing dairy farm producers and cooperatives; industry manufacturers and suppliers; state and federal regulators; and academia. Those who attended were very pleased overall!
General Session Programs were held Wednesday afternoon. Featured topics of current interest to the Dairy Industry, from farm to plant to the consumer, with high caliber speakers from industry and regulatory agencies occurred. The conference opened with a presentation on Changing Consumer Behaviors during COVID-19 from Rachel Kyllo, Sr. Vice Presdient Marketing and Innovation, DFA Dairy Brands. General session topics that followed further addressed topics from cow to cup, from animal health and producer concerns to updates on food safety policies. Dr. Jamie Jonker, V.P. Sustainability & Scientific Affairs, National Milk Producers Federation and Dr. Joe Scimeca, Sr. V.P. Regulatory & Scientific Affairs, International Dairy Foods Association shared their perspectives on what to expect in 2021.
DPC Task Forces met jointly on Thursday. Presentations (Milk Cooling, Storage, Control Technologies, Food Defense, and Testing Supply Technologies) were shared by industry experts. The TF Groups provided updates on DPC Guideline progress and a short video highlighting the new Guideline template was shared with participants.
On Friday morning, a Joint Technical Session with the Innovation Center for U.S. Dairy took place. Speakers and a panel discussion on Emerging Research Topics such as Controlling Listeria, Efficacy of
Antimicrobials/Protective Cultures/Hydrogen Peroxide, and Cold Plasma Technology to extend shelf-life were discussed.
The Annual Business Meeting followed highlighting the work of the board during COVID-19, recognizing our Honorary Lifetime Membership recipient Cary Frye and the Eugene T. Wolff Inductuee Rebecca Piston. The launch of the new website/member management system was also discussed.
A virtual workshop ideal for dairy producers, veterinarians, milk inspectors, regulatory personnel, milking equipment providers and milk quality consultants interested in AMS installations and operations also took place. Participants received a link for 4 hours of virtual instruction on AMS best practices and key considerations related to engineering, regulatory requirements, and operations to maintain milk quality followed by a 1 hour Q&A session with subject matter experts.
Sponsorship of the Annual Conference
2020 Conference Sponsors
DPC Thanks it's loyal Sponsors who helped make the 2020 Conference a success! Visit their company sites by clicking on their logos from the banner displayed at the bottom of our website and check out our Gold Sponsor Featured Content.
DPC Sustaining Members may participate as vendors and/or sponsors in future meetings.

Please e-mail evp@dairypc.org to be added to the mail list or if you have questions about sponsorship.